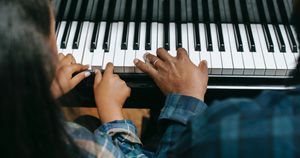 At Harmony Monsters Music, we believe in the magic of music.
We know music enhances our children's social and emotional skills and lets them explore sounds and movement in fun, unique ways. Music helps with brain development from an early age and supports language development for our youngest learners. Exposure to music helps develop gross motor skills, communication, and imagination. We believe that music is fundamentally important in early childhood development and should be included in preschools as well as elementary, middle and high schools.   
And, most of all, the Harmony Monsters believe that 
music makes children happy!
 "Live music—and the human interaction that accompanies it—is one of the most intense, multisensory, and physically involving activities in which young children and their caregivers can engage together.  Making music—especially if it includes tapping, clapping, bouncing, and dancing—can develop fine and large motor control. Even simple games, songs, and back-and-forth play build brain and body coordination."
-Dr. Dennie Palmer Wolf
CLICK HERE for "Why Making Music Matters" on Carnegie Hall Website